A World of Nirvana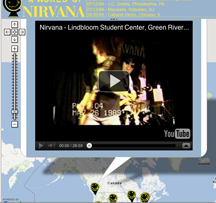 Thanks to a friend of Sceneroller for turning me on to A World of Nirvana, a "Google Maps and YouTube mashup" that traces the band's performance chronology from its very first party at a home in Raymond, Wash., in March 1987, to its final gig in Munich almost exactly seven years later.
The site "shows Nirvana's live concerts on a Google map by year," its creators explain. "When you click on a concert, the website dynamically pulls videos of that concert from YouTube and shows the first one in the info window. You can play the video in the info window or you can click the [+] icon on the upper right corner to maximize the info window which will show all videos of that concert."
While the listings are constrained to the shows for which A World of Nirvana could match YouTube video, the effect is compelling; you can watch the band cross geography and time until its abrupt terminal point.