Van Halen's concert rider in pictures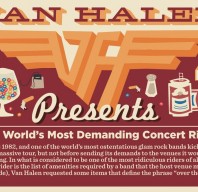 And now for something completely different in the spirit of displaying music history graphically: Sonos.com has cooked up a diagram that illustrates the stipulations of Van Halen's famed 1982 concert rider.
This list of performer requirements is most famous for its specification that the required bowl of candy include no brown M&Ms. In addition, its 53 pages covers everything from furniture (two 6-by-3-foot tables in the "band hospitality room") to condiments ("any caterer not providing adequate condiments, utensils or ice will be subject to a $100.00 fine") to supplies ("one ... large tube KY jelly").
(While the brown-M&Ms ban has long been held up as the symbol of rock-star excess, Van Halen vocalist David Lee Roth explains that the band included the rule to ensure that venue owners had read all the details and presumably had also conformed to the band's elaborate engineering and safety requirements.)